Olympia Brown
1835 – 1926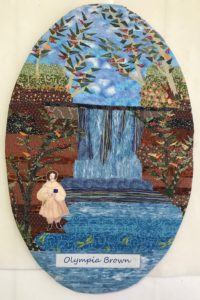 Olympia Brown
By Chris Zurbuchen 
Size: 26 ½" h x 17 ½" w x ¾" d
Construction Methods:    Raw edged applique technique (Ann Loveless workshop, June 2018).  Fused fabric, "top-stitch" machine needle and embroidery threads, free motion stitching.  Oval shape maintained by foam core board inserted into facing.
Materials: Cotton fabrics, polyester machine embroidery thread, vintage cotton blanket as batting, satin and chiffon with braided embroidery thread glued, Micro-Line pen.
Contact: [email protected]                                                                       Price: $250
Artist's Notes: When MVAQN decided to recognize the 100th anniversary of the 19th Amendment, I contacted Scott Sanders, archivist at Antiochiana, Antioch College, inquiring if there was an alumna suffragist.  He introduced me to Olympia Brown, class of 1860, a most remarkable woman and his favorite Antiochian.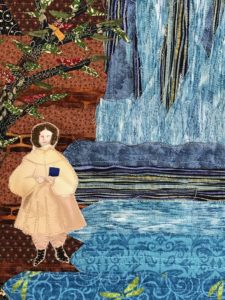 My quilt places her in bloomers beside the Cascades in what is now known as Glen Helen.  Since most of our audience would be local to the Miami Valley, I felt many would know the Cascades and feel a kindred spirit with this young woman walking the Glen. 
Olympia Brown was born in Michigan in 1835 to a Universalist family who valued education.  She was not able to attend University of Michigan, as they did not yet admit women.  She enrolled at Mt. Holyoke Female Seminary but found it too strict for her already progressive ideas.  She subsequently came to Antioch in 1855 and her family moved to Yellow Springs with her.  Her siblings attended Antioch as well. 
Olympia adopted the "Bloomer Girl" fashion, a pants-skirt combination, which was ridiculed by fellow students and locals.  It was comfortable and practical, but also scandalous.  She and her friends took long walks for exercise as physical education was not available for Antioch women.
My opinion is that Olympia became a public speaker in her first-year English class.  The instructor assigned in-class orations and readings, stating "All the young men will be required to give speeches before the class.  The young women must bring manuscripts to class and read from them."  Olympia did not agree and delivered a rousing oration from memory with her manuscript rolled up in her hand.  An orator is born!
She entered the Theological School of St. Lawrence University in Canton, NY.  In 1863 she received her ordination by the Northern Universalist Association at age twenty-eight, the first woman in America to be ordained by a regularly constituted ecclesiastical body.
Olympia Brown Timeline:
Year     Notes (Age)
1835     Born in Michigan
1860     Graduate of Antioch College; wore bloomers (25)
1863     First fully ordained female minister, St. Lawrence Assoc. of Universalists (28)
1864     Minister in Weymouth Landing, MA; spoke for months in Kansas of behalf of sufferage (29)
1868     Founded New England Woman's Suffrage Assoc (33)
1870     Minister in Bridgeport, CT (35)
1873     Married John Henry Willis; kept her maiden name (38)
1874     Son, Henry Parker born (39)
1876     Daughter, Gwendolyn born (41)
1878     Minister in Racine, WI (43); Church re-named Olympia Brown Unitarian Universalist Church, 1960s
1882     President, Wisconsin Women's Suffrage Association for 30 years (47)
1887     Left full-time ministry, was activist for women's rights for next 32 years (52)
1893     Willis died; she managed Racine Times-Call newspaper for 7 years after buying out partners (58)
1903-20  President, Federal Suffrage Association (68-85)
1913     Joined National Woman's Party welcoming their confrontational and street-wise tactics (78)
1917     Picketed White House burning Woodrow Wilson's speeches (82)
1920     Demonstrated at Chicago Republican Convention;
             Voted in her first presidential election (85)
1926     Deceased (91)
Sources:
Scott Sanders, "Antioch: An Episodic History," 2004, Antiochiana, Antioch University.Della Miller, Memories of a Yellow Springs Family,
www.yshistory.orgwww.uua.org/re/tapestry/adults/ethics/workshop6/191917.shtml
www.uudb.org/articles/olympiabrown.html
Denise D. Tracy, "Wellsprings: Sources in UU Feminism," 1992
Chris Zurbuchen                                      Suffragists–The Quilts
Yellow Springs, OH