What makes MVAQN different is our original designs.

These are not your grandmother's quilts . . .
---
Our History
The Miami Valley Art Quilt Network was formed in the fall of 1992 by a weaver and fiber artist, Gerry Fogarty, of Yellow Springs and Sharon Weltner of Oakwood, an art teacher, costume designer, and fabric dyer.  They invited other artists who were interested in fostering enthusiasm for the growing art form of non-traditional quilts.  The group was led for a number of years by Anne Hubler.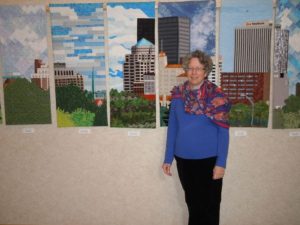 What makes MVAQN different is that the focus is on the creation of original designs. These are not your grandmother's quilts BUT pieces of contemporary fiber art. MVAQN's members focus on using their own designs and techniques, some traditional and many innovative.  The quilts are constructed of traditional commercial cotton fabrics, hand dyed silk, rayon or wool, non-woven fabrics, painted fabrics and high tech fabrics like Tyvek.  The only guideline for their work is the suggestion that their quilts consist of three layers – a top, a back and a filling – the connection of these three layers by stitching in some form.  These are guidelines; the only hard fast rule is the work is original.
Members of the group, both men, and women, have a diverse backgrounds, teachers, homemakers, librarians, scientists, and artists.   Although many have no formal art background, they all share a love of textiles and art. Inspiration comes from flower gardens, poetry, landscapes, travels, literature, day dreaming and wild imagination.  New ideas for techniques come from studying other artists, and from our own experimentation.
MVAQN has had many group exhibits in the Dayton area over the years.  Gerry Fogarty and Sharon Weltner co-founded the MVAQN-Aullwood Audubon Center Art Quilt Exhibition.  This juried exhibit has attracted international entries and continues today under the auspices of Aullwood Audubon Center.  Members' works have received state and national recognition and have been included in private and corporate shows and collections.
MVAQN reorganized in the summer of 2007 with the goal of inspiring and supporting the efforts of our members, providing opportunities to exhibit, and creating and taking advantage of art education opportunities in the community.  Written between the lines of these formally stated goals is the desire to stretch ourselves to create works that are accepted as art.