A Women's Suffrage Timeline  Trailblazers – A Women's Suffrage Timeline
 Peggy Matley 
Size:  42" h x 25" w
Construction: Raw edge applique, machine embroidery, hand stitching, machine stitching
Materials: Cotton, cotton poly, vintage lace, wool batting, buttons
Contact: [email protected]                                                         Price: $175
Artist Notes:
At first I planned to make a timeline showing where and how the suffragists fit into the "big picture" of History. It helped me to understand our country's long and slow journey to women's suffrage. Initially I was going to make a chart to hang on the wall with the exhibit. It only took a short time before I realized it wasn't a chart I needed to make, but a quilt.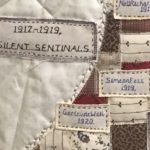 I had the Civil War reproduction fabric squares leftover from my other suffragist quilt. The background fabric was a piece that I already had and its shape and size determined the quilt's shape. I used my sewing machine to make the names of known suffragists and placed them on the quilted trail. Each of the squares on the trail represents all of the unnamed men and women who worked for suffrage and equality.

Outside of the trail I placed the events that were happening in our country and the significant dates related to them. It's interesting to note a gap during the Civil War and also the increase in events leading to the passage of the 19th Amendment.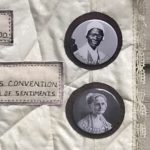 I placed the portraits of some of the suffragists along the right side of the quilt to emphasize that these were real people who spent a great deal of their lives fighting not only for their own rights but for the rights of all the women who would come after them. The portraits are of Sojouner Truth, Lucretia Mott, Martha Wright, Elizabeth Cady Stanton, Susan B. Anthony, Ida B. Wells, Carrie Chapman Catt, and Alice Paul.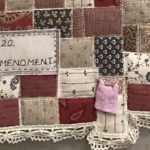 On the timeline after the19th Amendment I placed a representation of the women of today.  Be sure to note the pink kitty hat from the January 2016 march in Washington.
Peggy Matley
Dayton, OH