Victoria Claflin Woodhull
1838 – 1927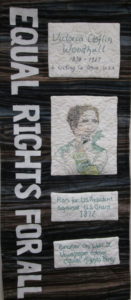 Equal Rights For All  

Janet Lasley   
Size:   46" h x 19.5" w  
Construction: Applique, machine embroidery, machine quilting
Materials: Cotton fabric, fabric crayons, embroidery thread
Contact: [email protected]                                                   Price: $200
Artist Notes:   Interesting radical woman – ended up working for education of children in England…married 3 times – first husband abusive, second helped her do her work, third was English.
Research:
I chose Victoria Claflin Woodhull because she was born in southeastern Ohio and has the same last name as friends of mine.  The sister of a friend is named after her.  His mother, Jean Woodhull, convinced Governor Cox to donate his land for a park and she helped to manage it the rest of her life…Cox Arboretum!
Victoria Claflin was married very young and against her will to an abusive man and they had two children.  She believed in free love for all and freedom to refuse her husband.  Once divorced she moved to Washington D.C. to start a business with her sister, Tennessee Claflin. The sisters started the first brokerage firm run by women; they also started their own newspaper, Claflin and Woodhull Weekly.  
Victoria's second husband, Colonel James Blood, became one of her best helpers in all her endeavors.  Tennessee and the Colonel worked on the newspaper and Victoria's run for president.  The threesome pushed hard politically for equal rights for women and children with help from prominent men and women.
In 1872, Victoria ran as the Equal Rights candidate on the ballot for President of the United States with Frederick Douglass as her running mate. Just before the election, Woodhull published an article in the paper about Henry Ward Beecher, a famous Baptist preacher.  Because of it, she and her sister ended up in jail for obscenity, having written the details of Beecher's indiscretions in cheating on his wife.
Ulysses S. Grant won the presidential bid; he is considered the most popular person to run for president up to that time.  The Woodhull/Douglass ticket received nine votes, one of them from Susan B. Anthony, who was arrested for voting.
As stockbroker and close friend of Cornelius Vanderbilt, the railroad tycoon, her life changed dramatically after his death.  Vanderbilt's sons offered her and her sister, Tennessee, a large sum of money to leave the country.  They were worried that the two women would testify in court over Vanderbilt's finances and his last will and testament.
The sisters took the money and lived in England the rest of their long lives, still working for the rights of women and children in many ways.
Woodhull has been recognized on the Borough of Manhattan Women's Rights Historic Sites for the City of New York. She was a trailblazer, immortalized in an opera, "Mrs. President".
Janet Lasley                                                 Suffragists–The Quilts
Dayton, Ohio