Elizabeth Arden
(Florence Nightingale Grahman) 
1878 – 1966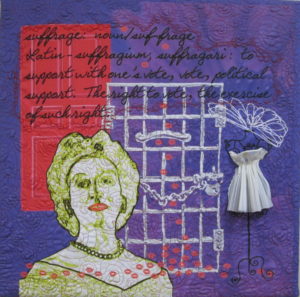 Elizabeth Arden

By Rhonda Doyal 
 Size:   24" h x 24" w
Construction:
Materials: Cotton fabric with vintage lace embellishment
Contact: r[email protected]                                            Price: Contact Artist
Artist Notes: Florence Nightingale Graham was born in Woodbridge, Ontario, Canada on December 31, 1878.

Reinventing herself, and changing her name to Elizabeth Arden, she built a cosmetic empire in a time when the wearing of face makeup was looked down upon as strictly for the low class and women of ill repute.

In 1910 Elizabeth opened her iconic "Red Door Salon" on Fifth Avenue in New York City. As an independent woman striving to make it in a man's world, Elizabeth supported the women's suffrage movement.

In 1912, when women took their struggle to the streets, Elizabeth handed out red lipstick to the women marching in front of her salon. This became a unifying factor, a symbol of defiance, and a standard part of the suffragist's uniform.