Rachel Brill Ezekiel
1870 – 1965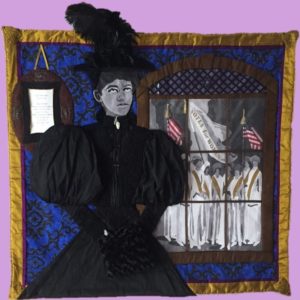 One of Thousands – Rachel Brill Ezechiel 
By Linda Morgan
Size:   42"h x 46" w x 2" d
Construction: Hand and machine stitching, fusible applique, dimensional applique, embroidery, and photo quilt techniques.
Materials: Cottons, silk shantung, velvet, bridal illusion, novelty fabrics, faux fur. Embellishments – vintage buttons and jewelry, wire for glasses, miniature American flags, dowel rods, gold letter stickers, tatting/handmade lace, lip cording, tassels, feathers, and scalloped lace trims. Other materials which became part of the dimensional construction include felt, netting, paper, interfacing fabrics, and batting.  
Contact Information: [email protected]                                 Price: NFS
Artist Notes:
Judith Ezekiel, Rachel's great granddaughter, generously provided a picture of Rachel and the information to me. Judith herself is an activist and author. Her book, Feminism in the Heartland, examines the history of the second-wave feminist movement in Dayton, Ohio. Judith and her book are featured in the Rachel's quilt, just behind Rachel in the window.  I had the privilege of taking several courses with Judith as my instructor in Women's Studies and History. It is my honor to call her a friend.

Also, this project gave me the opportunity to use my seamstress skills as well as practice my art of tatting. 
Research:
Rachel Brill Ezekiel, the daughter of Jewish immigrant parents from Europe, was born on June 12, 1870 in Charleston, South Carolina. Rachel supported herself and later her own growing family of four children through the profession of stenography. A profession, which not only provided her a livelihood, but would also prove a useful skill in her work with activist organizations and their leaders. During her years of suffrage work (1914-1922) Rachel wrote newspaper and magazine articles, worked on thousands of petitions and letters, and not only worked in the National American Woman Suffrage Association (NAWSA), but often acted as their spokeswoman. These activities provided many opportunities for her to interact with the great suffragists of her time.
One of those women was Carrie Chapman Catt. Rachel's family has a copy of Catt's book, Woman Suffrage and Politics, in which Catt wrote the following dedication to Rachel, "Among the faithful thousands who made woman suffrage possible in the United States, none was more patient, helpful, understanding and efficient to the Nth degree Rachel Ezekial [sic]."
Note: The picture frame reflecting the inscription from the book has had the word than added for easier reading.
Rachel died in the Hebrew Home in 1965 at the age of 95 and is buried in Richmond, VA.
Linda Morgan                                              Suffragists — The Quilts
Dayton, OH