Maud Wood Park
1871 – 1955Maud Wood Park: A Doll 
Ann Diller
Size:  12″ x 3.5″ x 1.5″
Construction:  image printed on cotton, stuffed and embellished
Material: cottons, beads, polyfill, ribbon, wood stand
Contact: [email protected]                                                                Price: $30
Artist Notes: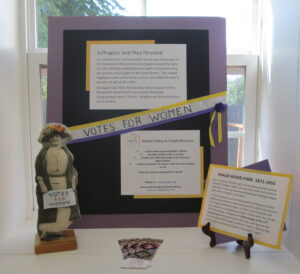 This doll was made for the introductory display for "Suffragists: And They Persisted! quilt exhibit to highlight another suffragist, but in 3D.
Born in Boston, Maud taught school before graduating from Radcliffe College in 1898.  She married Charles Park while at Radcliffe, and also formed the College Equal Suffrage League which led to chapters in 30 states. 
In 1901 she became one of the founders of the Boston Equal Suffrage Association for Good Government, which later became the League of Women Voters.  In 1916 Carrie Chapman Catt recruited her to campaign and lobby in Washington D.C. for the 19th Amendment.  Following the 1920 passage of the 19th Amendment which gave women the vote, Park became the first President of the League of Women Voters.  She was also active in groups lobbying Congress for women's rights.
Ann Diller
Centerville, OH

The Quilts