Elizabeth Cady Stanton  1815-1902
Susan B. Anthony  1820-1906
Harriet Tubman  1822-1913

Henry Brewster Stanton 1805-1887
Frederick Douglass 1818-1895
Daniel Anthony 1794-1862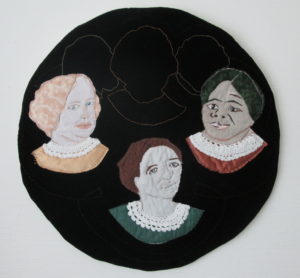 What A Team ! 

Janet Lasley 
Size:   28″ diameter
Construction: Applique, Misty Fuse, machine quilting
Materials: Cotton fabric, fabric crayons, quilting threads
Contact: jan[email protected]                                         Price: $200 
Artist Notes: These three women worked together on equal rights, especially the right to vote.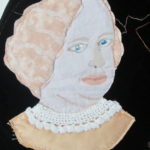 Harriet Tubman (on right) and Susan B. Anthony (middle) did the speaking;  Elizabeth Cady Stanton (on left) was the writer.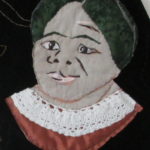 Harriet Tubman had a home in upstate NY.  After 1865, she began working for the vote, often speaking with the other women about her experiences as a woman who felt the need for political change.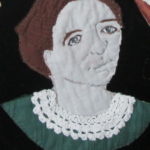 Supporting these three women were three men. Elizabeth's husband, Henry Brewster Stanton, (left rear) was an active reporter and wrote for New York City papers and the Liberator concerning abolition of slavery. Susan B. Anthony's father, Daniel Anthony, (right rear) believed that women should be able to work in jobs normally considered male; he encouraged Susan to go in her own direction. Frederick Douglass (rear center) supported all three women in their struggle for suffrage for women.
Wouldn't you love to hear them present their case for the vote?