Honorable Simeon D. Fess
1861 – 1936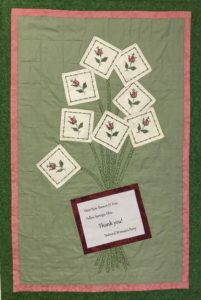 A Bouquet for a Suffragist
Chris Zurbuchen
Size:  48" h x 28" w
Construction Methods: Raw edged applique
Materials: Cotton fabrics, polyester machine embroidery thread, vintage cross-stitch floral hostess coasters, vintage cotton blanket as batting
Contact: [email protected]                                                          Price: $95

Artist's Notes: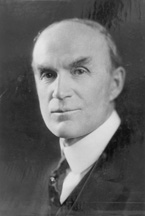 Honorable Simeon D. Fess, a staunch prohibitionist, worked for women's suffrage, child-labor laws, workmen's compensation, and minimum wage legislation. He was President of Antioch College from 1907 to 1917. He represented Ohio in the U.S. House of Representative from 1913-1923.  In June 1919, the Congress passed the 19th Amendment and Simeon's efforts helped the Amendment pass in several states. He then served as a U.S. Senator from Ohio from 1923 – 1935.  This quilt bouquet comes from the letters sent to him by grateful suffragists.
The Letters:
My dear Dr. Fess:
        On behalf of the National Woman's Party, I am taking this first opportunity since the conclusion of the suffrage campaign to express to you our deep appreciation of the consistent and able help which you have given to the suffrage cause.  Those of us who have worked in Washington for the national suffrage amendment feel that they owe a debt of gratitude to you for the steadfast support which you have always given to the suffrage measure.  I am sure you know how deep and sincere our appreciation is, but I did not want to let this occasion pass without expressing to you once again our gratitude for your help.                                                                  Very sincerely yours,
                                        ALICE PAUL,
                                        National Chairman, National Woman's Party
Dear Mrs. Stephenson:
          I learned that you are Chairman of the Women's Republican Club of Yellow Springs, and I am writing to say how glad I am you have hold of this. Surely, it must be a great privilege to work in Yellow Springs, the home of the Honorable S. D. Fess.
          I knew Mr. Fess in the Constitutional Convention when he raised his voice in behalf of women, and he has ever since stood by us in all our congressional work.
          I consider it a privilege to be associated with him myself, so I know that you do.      
                              Sincerely yours,
                                      HARRIET TAYLOR UPTON
                                        Vice Chairman, Executive Committee
            Congratulation upon your success in disentangling the parliamentary situation in our legislature which made possible the ratification of West Virginia, the 35th state.                  
                                                   MRS. E. A. YOST
                                        Legislative Representative, W. C. T. U. of West Virginia
          I know of no one the United States Congress whom I feel has been more ready to help suffrage than Dr. Fess, and I know of no one who has given that help more definitely and effectively than he.                                                                                                         Yours very sincerely,  
                                     ANITA L. POLLITZER
                                    Legislative Secretary, National Woman's Party
August 19, 1920
         Without your help we could not have won the Republican vote in Tennessee, "the 36th and decisive state to ratify."
                                                  ANITA POLLITZER
                                                       Nashville, Tenn.                                                                
Sources:
Scott Sanders, "Antioch: An Episodic History," 2004, Antiochiana, Antioch University.
www.fessonline.org/simeon
Chris Zurbuchen
Yellow Springs, OH                           Suffragists –The Quilts